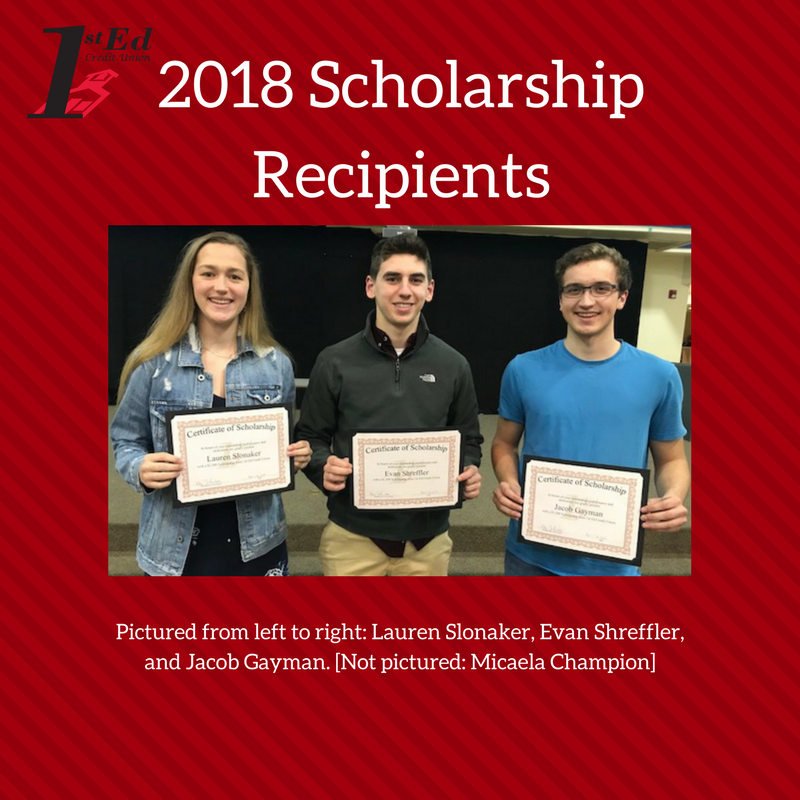 The following students have been selected to receive one of our $1500.00 scholarships to continue their education and help achieve their dreams.
Micaela Champion will be graduating from Chambersburg Area High School in the spring. She is a member of the varsity soccer and lacrosse teams as well as being active in the marching and concert bands, National Honor Society, Chemistry Club, Varsity Club, Academic Competition Team and the Interact Club.  Micaela currently works at Target, wants to study pediatric oncology, and is planning to attend McDaniel College in the fall.
Jacob Gayman is a senior at Chambersburg Area High School where he has been part of the National Honor Society for most of his high school career and is currently a leader in the Fellowship of Christian Athletes Club.  He is also captain of his soccer team, volunteer teacher at his church and works part-time as a USSF soccer referee.  Jake plans to major in engineering at Cedarville University.
Evan Shreffler will be graduating from Chambersburg Area High School this year and has been very active in his school, including being a member of the National Honor Society, captain of the varsity basketball team, student government class officer, recipient of the Lenfest Scholarship his junior year, and co-leader of the Mini-THON at CASHS.  Evan will be attending the University of Pennsylvania, School of Engineering and Applied Science in the fall.
Lauren Slonaker is a senior at New Oxford and is Vice President of Varsity Club, a member of the National Honor Society, a Camp Cares counselor, and has received numerous letters in lacrosse, field hockey, and basketball.  Outside of school, she works part-time at Savory's Pumpkin Funnel Cake.  Lauren is planning to attend Millersville University of Pennsylvania where she will continue to be active in sports as she obtains her degree.