Happy Holidays!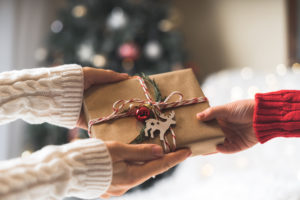 It's that time of year again for making your list and checking it twice — and 1st Ed is here to help with our very own 2021 Holiday Gift Guide for the family.
Let's face it, there are two types of people during this season: The ones who embrace the spirit of giving and can't wait to buy, wrap, and share, and the ones who dread the hustle and bustle, the long lines, and too many choices. 
Whether you're the type who's ready to go at dawn on Black Friday or the type who waits until Christmas Eve, we've curated 12 holiday gift ideas that are sure to make the special people on your list very merry.
We all know someone, or more than one someone, who is a dog lover. This site offers perfect, personalized gift options for them. Besides these carefully-crafted canvas prints, you can find ornaments, coffee mugs and more to customize. 
Have a cat lover on your list? This site has perfect gifts for them too.
Starts at 20$ for standard pair/$24.99 for custom pair
Looking for a fun, novelty gift? This site showcases socks of every interest: DC, Marvel, professional sports, favorite TV shows, even custom-made socks.
You're sure to find a perfect pair to stuff in someone's stocking.
Uncommon Goods — $14.95-$29.95
The holidays are a great time to reflect on best memories. This is a perfect gift for just that. 
Maybe someone on your list welcomed a new baby or maybe you went on a fantastic summer vacation. Take your favorite photos and turn them into a custom reel viewer — and a gift that is sure to please!
bestbuy.com — $399.99

Make someone's life a whole lot easier with an iRobot Braava Jet M6. This product automatically mops and cleans with its Precision Jet Spray and Smart Mapping. You don't have to break a sweat. 
You can also command the iRobot through Google Assistant or Alexa, so let technology do your dirty work while you enjoy some holiday magic.
amazon.com — $47.99 (list price)

VTech continually makes great, interactive toys for your little ones, and this product is no exception. 
The Marble Rush is VTech's take on traditional marble runs with captivating colors and endless combinations that are sure to capture a child's imagination and spark creativity.
Target — $59.99
This gift is a true 3-in-1: Harry Potter, Legos, and chess! 
Build your Harry Potter chess set before you challenge a favorite friend or relative to a game!
It's double the challenge and double the fun — all the while enjoying the wizarding world of Harry Potter.
Pottery Barn — $99.00 (full/queen)
Grab a hot cup of cocoa and snuggle up in this comfy Marshmallow Blanket from Pottery Barn. 
Made with ultra-soft sherpa (and in a Fair-Trade-Certified factory), this is sure to keep a lucky someone warm on a frosty, winter morning.
Total Wine — $79.99
The gift that keeps on giving…for 24 days, at least. This gift set includes 24 different wines from various US regions. Available online and in stores, this grown-up advent calendar is a gift that's sure to please the wine lover in your life. 
Does someone special on your list prefer a good brew to a good wine? Total Wine also offers a Beers for Cheers variety pack with 24 craft brews from seven US breweries.
amazon.com — $28.99 (list price)
Disc golf is one of the fastest-growing sports in America, so for the sports enthusiast on your list, grab one of these disc golf starters sets for the holidays. 
Courses are everywhere, and if you need help finding one near you, check out this easy search option: https://udisc.com/places.

Uncommon Goods — $35.00
An inspirational gift idea for a young grandchild, niece, or nephew: This personalized, beautifully-illustrated ABC book imagines what that little one could grow up to be — all the while teaching the ABCs!
Bed, Bath & Beyond — $49.99
For the home gourmet chef on your list, this is the perfect gift. An Architec concave cutting board will open a whole world of appetizing possibilities. Creating board sauces and infusing flavor is a breeze with this beautiful-yet-practical, concave cutting board.
cotopaxi.com — $190
For the world or weekend traveler, Cotopaxi backpacks and travel packs are the latest and greatest thing. 
Besides its looks, the design makes a lot of sense; it's easily organized and carry-on compatible. Plus, Cotopaxi only uses recycled materials for their products and leverages a percentage of their revenue toward reducing poverty around the world.
Enjoy the ease of shopping for all your holiday gifts this season AND earn rewards with a 1st Ed Visa® Credit Card. Learn more about our two credit cards options and how to get started here or call 717-264-6506 for more information.