We're devoted to our youth members. They represent the future of our credit union! That's why we have a number of programs in place to serve and educate our youth. Check out our Youth Savings account for kids age 12 and under, or our teen checking program for teens age 15-18.
As parents, we're here as a resource for you. Check this site often for new tips and tools to encourage sound savings habits. Together, we can help teach kids the value of saving and give them a head start in life.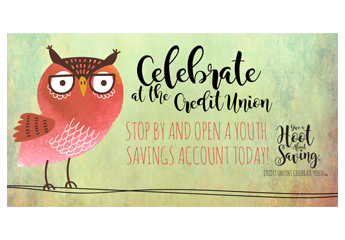 Teach Your Little Owls to Fly With Money Talks
The first step to teaching your kids about money is talking about money. "The most effective way to teach is by having frequent discussions and don't ever lecture," said Ted Beck, President and Chief Executive of the National Endowment for Financial Education, in a recent Wall Street Journal article. "Look for teachable moments and always be...