We celebrated International Credit Union Day all week long with treats, giveaways, and prizes!
The theme for International Credit Union Day 2017 "Dreams Thrive Here," is meant to serve as a reminder of how effective credit unions like 1st Ed Credit Union are at helping all people chase and achieve their biggest dreams in life.
This is because, unlike other financial institutions, credit unions are not-for-profit, so their primary purpose isn't to score record profits in order to cut distant shareholders bigger dividends checks. Rather, the primary purpose of credit unions is—and always has been—to be of service to their members. That means you!
Check out our prize winners!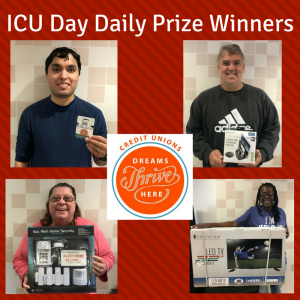 Prizes:
Monday: a TrackR™ Bravo that you can attach to an item and find with your phone
Tuesday: a 6 pc Home Security System
Wednesday: a USB-powered Re-Chargeable Power Bank
Thursday: a 3-Port USB Charging Station
Friday: a 32″ LED HDTV
Dreams Thrive Here – International Credit Union Day 2017 from CUNA on Vimeo.