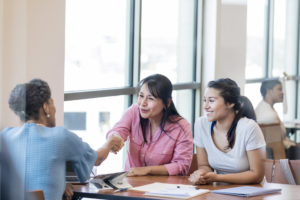 Banks vs. credit unions: what's the big difference between the two? If you're considering making the switch to a credit union in your area, you may be wondering how potential membership would affect your financial situation and the services you already use. 
While the portfolio of high-quality offerings from credit unions such as loans, checking and savings accounts, and credit cards is pretty similar, there are several advantages to choosing a member-based community. Learn more about the benefits of joining a credit union. 
Individualized Financial Assistance
As not-for-profit financial institutions, credit unions work tirelessly to ensure that their members grow financially. That means there's no reason to nickel and dime their members with fees in order to make money like a major bank. 
Credit unions take pride in watching their members improve their finances one step at a time, and offer resources to ensure that the community is well-educated and on the right track to success. At 1st Ed Credit Union, debit and credit rewards, financial services, and even educational articles are all ways in which we reward, counsel, and inform our members so that they have the tools to make smart financial choices and watch their savings grow.
Lower Loan Rates and Fees
Again, credit unions prioritize the overall satisfaction of their members instead of a bottom line due to the fact that they aren't for-profit. But what does this mean in terms of interest rates when it comes to say, a personal or auto loan? In short, it means you can expect to pay less on interest monthly — a huge win for anyone looking to get the best bang for their buck when they need to borrow. 
Don't believe us? Let's break it down with a descriptive example. While we can't speak for other credit unions, a quick Google search on major banking institutions will give you a good idea of what kind of interest rates you can expect on loans. 
Imagine that you're on the hunt for a home equity loan worth $25,000 that you want to pay off in ten years. If you were to turn to a major banking institution based in Pennsylvania, you might possibly be presented with an APR as high as 7.23%. For the same loan amount and terms at 1st Ed Credit Union, your APR could be as low as 3.292%. Pretty big difference, right?
Better Savings
Speaking of high interest rates, they don't always have to be avoided when it comes to your finances — particularly when referring to savings. Since credit unions operate to give back to their members (sensing a theme here?), they're able to offer higher interest rates on savings accounts as opposed to for-profit banking institutions.
With a Share Savings account at 1st Ed Credit Union, all you need is $5 to keep your membership active and open. Plus, you'll be considered a part-time owner of the credit union! Dividends are compounded and credited monthly, and you can look forward to interest rates as high as 0.05%. Let the savings begin!
Better Family and Community Relationships
As previously mentioned, a membership with any credit union makes you a "part-time owner" of the financial institution. That's because credit unions are run for and by their members. You may notice that there are particular requirements to join a credit union aside from financial circumstances. Geographical location is the most common similarity between credit union members.
1st Ed Credit Union serves school employees and their families in multiple Pennsylvania counties. Rooted in education, our mission is to provide members with personalized attention for their financial needs in addition to services offered that will promote growth. 
Learn more about the perks of joining 1st Ed Credit Union and apply for membership today.