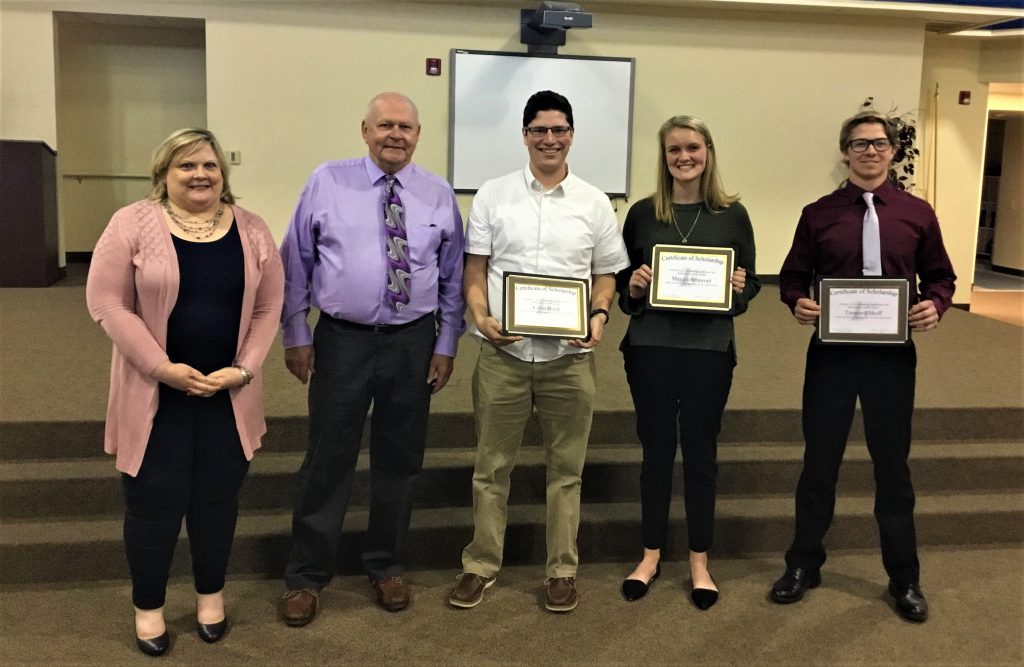 Pictured from left to right: Kelly Childress, CEO, Roy Johnston, Chairperson of the Board, Colin Boyd, Maggie Strawoet, and Tanner Althoff. Not pictured: Sydnee Loy.
The following students have been selected to receive one of our $1500.00 scholarships to continue their education and help achieve their career goals.
Tanner Althoff will be graduating from Bermudian Springs High School this spring where he is a very active member of the Student Council, National Honor Society, and Vice President of Varsity Club.  Tanner is also very involved in sports including playing baseball and wrestling for the majority of his time in high school.  Tanner will be attending Robert Morris University for a Nursing Degree.
Colin Boyd is a senior at Big Spring High School where he has spent three years as President of his class, as well as President of the National Honor Society and TEMPUS Club.  Colin currently works as a paid intern at an accounting firm which has provided him with invaluable experience which will help him as he works toward an Accounting Degree at Penn State – University Park.
Sydnee Loy is a senior at New Oxford High School where she is a member of the National Honor Society, the Freshman Mentor Program, and is Student Council Vice President.  Outside of school, she is very involved in her church youth group, and is a member of the Hanover Elite Cheer and will be competing nationally this spring In Orlando, Florida.  She also takes great joy in being the tumbling coach for four-year-old children.  Sydney will be attending West Virginia University in the fall where she will be pursuing a Nursing Degree.
Maggie Strawoet is currently a senior at James Buchanan High School.  Maggie is Vice President of Art Club as well as Team Captain for Basketball and Tennis.  Maggie also works with the youth through the Future Hoopsters Basketball Camp and as a mentor for autistic students during Art Class.  Maggie plans to attend Kutztown University this fall and major in Social Media Theory and Strategy.