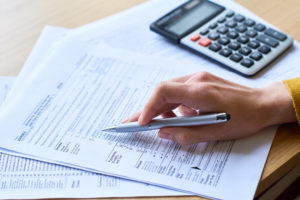 January 27th marked the official start of tax season this year, and for those of you who are expecting a tax return from the IRS, it may be time to create a budget detailing how to spend your checks. Contributing your tax returns towards stronger future financial stability can be challenging, especially for those living paycheck to paycheck. However, if you find yourself with a tax refund this year and the means to keep supporting yourself without it, try holding back on that shopping spree you may have considered taking. Here are a few tips on how to maximize your tax return and utilize that cash for future expenses.
Pay Off Debt
It's no secret that being debt-free is one of the most important factors of financial security. If you would like to use your tax refund to pay off debt, the first step is deciding which kind to tackle first. Debt can be classified as efficient or inefficient, and while there's no such thing as "good debt", inefficient debt gives you zero financial advantages and typically comes with pretty high-interest rates. Think personal loans, credit card payments and anything that will lower your credit score. Efficient debt may be tax-deductible and can help you acquire items that can grow in value over time (like a mortgage). Inefficient debt should be marked as a high priority on your list when strategizing a game plan to render yourself debt-free. 
Build Your IRA Account
Depositing your tax refund into a savings account is never a bad idea… unless you end up moving it to your checking account a month later. The problem with contributing to a savings account is that easily accessible "transfer" button available at your fingertips by mobile banking apps. If you know your tax return won't last in a savings account, consider putting it towards retirement by placing it in an IRA where you can't touch it. Traditional IRA earnings grow tax-deferred and penalize investors financially for withdrawals before the age of 59 1/2. Need help planning for retirement? Learn more about how to save with an IRA account today. 
Create an Emergency Fund
One of the biggest mistakes you can make with an IRA is treating it as your emergency fund. Like the "I'll replenish my savings later" example above, the same mindset is commonly used towards IRAs and making withdrawals. On top of the hefty penalties, IRA owners are not likely to refill this account when they're in a bind. That's where an emergency fund comes into play. By using your tax return as an emergency fund for unexpected bills, medical costs, family finances or any unforeseen expenses you may be presented with in the future, you'll be less likely to dip into your retirement savings.
Save For Something Special
OK, so we may have suggested that you steer clear of the shopping malls with a pocket full of tax refund cash, but that doesn't mean you shouldn't put it towards a vacation or home remodeling. If you consider yourself financially secure and debt-free, it's perfectly acceptable to contribute your tax refund towards treating yourself instead of saving up. While a vacation might just be an investment in your overall wellness, home or car improvements will raise the value of your property if you ever decide to sell. That special something might just turn out to be a win-win situation for your personal satisfaction and your wallet.  
Filing your taxes can be a daunting task, and strategically turning your refund into a responsible future investment may require some careful planning. Allow our team at 1st Ed Credit Union to help you contribute last year's tax refund towards continuous financial growth in 2020 and beyond. You can expect lower loan rates, higher interest on deposits and lower fees with us. Find out more about becoming a member of 1st Ed Credit Union today!
---
SOURCES:
https://www.forbes.com/sites/jimwang/2020/02/03/12-ways-to-put-your-tax-refund-to-work/#74cd7afa4951
https://www.bankrate.com/finance/credit-cards/best-use-of-tax-refund/
https://turbotax.intuit.com/tax-tips/tax-refund/12-smart-things-to-do-with-your-tax-refund/L6SfIkAEh