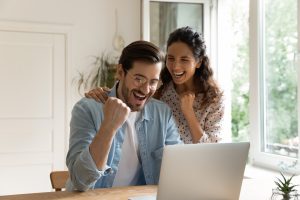 2022 is here — which means it's time to draft up those new year's resolutions. Maybe you want to finally take your dream vacation; maybe you want to start a new hobby, take a new class, or spend more time with the kids. Of course, there are always the traditional goals of losing weight, eating healthy, and exercising. Whatever your goals for the new year, make financial wellness one of them.  
A major cornerstone of financial wellness is controlling your debt. This can seem like such a big task, it's hard to even know where to start. That's why we've come up with our best tips for getting out of debt in 2022. Check out our seven strategies below.
Build a Budget
It's hard to pay down debt if you have no idea of incoming money and outgoing expenses. Building a monthly budget is vital. 
Financial experts usually advise a 50/30/20 percentage breakdown for your income. Fifty percent goes toward needs expenses like mortgage and utilities. Thirty percent is allotted for wants, and 20 percent is for getting rid of debt. If you can save money in your wants column — all the better. Move those savings over to your debts and get to your debt-free goal faster!
A budget also helps you keep track of your progress, so you can set benchmarks, realize when you're falling short, and celebrate when you achieve a goal. 
Build Good Habits
Building good habits is especially important if you're a free spirit or impulsive buyer. Our busy, modern lives also make this strategy hard, but all the more necessary. Here are some tips for cultivating a better financial lifestyle:
Don't spend out of boredom: Ask yourself, "Do I really need this?" before you buy.

Cook at home: Save money on tips, pricey entrees, and that glass of wine that costs almost as much as the same bottle at the store. You can craft restaurant-worthy meals in the comfort of your home for far less. If your skills and schedule are limited, meal plan services are still a less-costly solution than a night out on the town.

Meal plan and plan your grocery trips: Knowing what you want to cook and knowing what you need to buy ahead of time will help keep you from making unnecessary purchases. So, make a list and check it twice.

Don't worry about keeping up appearances: In our social, more-connected world, things may look greener on the other side, especially as most people only put their best face forward. It's important to assess your values and remember what's important. That way you can stick to your goals and not break your budget.

Sell what you don't want or need on Facebook Marketplace or similar platforms: Take an audit of what's laying around your house or buried in your closet. Anything you don't want, someone else might, so make a little money reselling and keep paying down your debt.
Lower Your Expenses
It's time to take a look at your budget and see where you can cut corners. There are many ways you can lower some of your expenses and put your savings towards paying down debt:
Cut coupons — or in this modern age, clip and save them on your phone.

Consignment shop: You don't have to buy everything new, and you might be surprised what treasures you can find at second-hand shops.

Cut cable: Find free or lower-cost entertainment options for your home.

Cut back on going out to eat and avoid daily trips to that expensive coffee shop.

Avoid activities that cost a lot of money like concerts, golf outings, or professional sports.

Ditch unnecessary memberships or subscriptions: Sometimes you may even forget which ones you have. Conduct an audit and see what you can live without.
Debt Snowball
This debt payment plan has you begin with your smallest debt first, regardless of interest rate. Focus on putting your extra money toward that until it's paid off. Then move on to your next smallest debt and so on. This strategy allows you to secure victories faster. The pride and relief from paying off a debt will inspire you to press forward until you're debt-free.
Debt Avalanche
This strategy has you start with the debt carrying the highest interest rate. It's no secret that it's hard to pay down debt with high-interest rates. It can seem like you're making little to no progress. Putting your extra money toward getting rid of these payments will help relieve the burden they bring, and it will save more money in the long run.
Debt Consolidation
Debt consolidation is another great way to reduce your debt and better manage your loan repayments. And you don't have to open another credit card to do this.
Financial institutions, like 1st Ed, offer low, fixed-rate loans designed for lumping your credit card debt into a single payment – and at a much lower rate than your typical credit card. This will help you pay your debt off easier and faster.
Be Accountable
This might be the principal key to your financial success. Once you set a budget and settle on a debt-pay-down strategy, find a partner, friend, or family member whom you can trust, and have them help you stay focused, stay committed, and stay motivated.
If you're looking at months or years of debt repayment until you are financially free, sticking to healthy habits and the plans you set in place can become hard. Having someone walking alongside you, encouraging you and reminding you of your end goals can be a smart, nearly-priceless strategy for finally achieving debt freedom.
Financial wellness is a journey, but it's worth it in the long run. 1st Ed can help you on this journey. Our personal loan options for debt consolidation are a great place to start. Find out more about our low, fixed-rate loans and how to apply here. 
We hope these tips for getting out of debt help you achieve your goals for 2022, and we wish you a happy, successful new year.