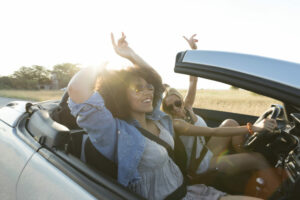 Yes, there is a difference. Where you finance your auto loan may not be at the top of your shopping list – not above model, mileage, safety, and space. But you don't want this to be an afterthought. There are definitely advantages to financing a car through a credit union over a dealer – or even a bank. So here are a few reasons why getting a car loan through a credit union is better for you.
Saving Money
Usually, by financing through a credit union, you will save some money – even over banks. That's because credit unions are not-for-profit and can typically offer lower interest rates than both dealerships and banks. But this benefit goes beyond securing low-interest rates. 
For instance, while 1st Ed always offers competitive interest rates that will save you money over the life of your loan, you can also benefit from terms like:
No prepayment penalties

No application fees

Simple interest – you only pay interest for the time you borrow the money
Getting Pre-approved for Your Auto Loan
Let's talk about the current auto market. Because of the pandemic and the ensuing supply chain crisis, buying a car has dramatically changed. There are fewer cars on the lot. Prices have inflated. More and more automakers are leaning toward online shopping and delivery, skipping the dealer altogether.
Because of this, you can expect more competition for the car or truck you set your sights on. That's why it's smart to get pre-approved for your auto loan rather than waiting until you're at the dealership haggling over price (which is much harder these days) and facing the pressure of limited inventory.
When you get pre-approved before shopping, you'll be ready to snap up the new (or used) car of your dreams rather than risk losing it to another buyer.
Avoid Other Dealer Hassles
When you walk into a dealership with a loan pre-approval from your credit union, there are a couple of other things you'll likely avoid:
Pressure to buy additional add-ons that you don't really need.

The possibility of interest-rate markups.
Saving money is too important these days to deal with that.
Keeping All Your Banking In One Place
Often, having all your finances structured and organized can be a bit of a struggle. Especially with all the things we pay for: house payments, utilities, cell phones, internet service, and let's not forget about those online subscriptions! Keeping all your loans, checking, and savings in one spot is much more manageable and convenient.
One Last Thing…
One drawback of getting a car through a credit union or bank could be that it takes longer to go through the approval process. With 1st Ed, however, we pride ourselves on a quick and easy auto loan application and approval process. You can apply online 24/7 – and also by phone, in-person, or by fax.
Other perks we offer:
And let's not overlook the peace of mind from working with a credit union in your local community, with people who are invested in their members and improving their quality of life. 1st Ed is only in Pennsylvania for Pennsylvania, but you still get all of the benefits of big banks without any of the big headaches.
Reach out to us with any questions you may have or apply today – and happy car shopping!