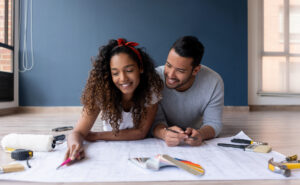 Spring is the season when everything seems to wake up, and all that fresh energy may have you dreaming of something new around your home. Whether you're thinking of a simple update, necessary repairs, room makeover, or major remodel, you need a home improvement project plan to get the job done right. 
Having your project organized from beginning to end will ensure that you can finish what you start. Here are some simple steps you can follow whether you're hiring help or taking the DIY route:
1. Settle on Your Home Improvement Budget
The best first step is knowing how much or how little you can do based on your budget. Yes, there are unforeseen costs that may arise in the middle of a project, but you should estimate how much you'll spend on tools, materials, and labor. 
A good rule of thumb for estimating the cost of hired help is that it will take up 20-40% of your total budget. In addition, experts suggest adding in 10-20% extra for covering any unforeseen expenses. (If all those home remodeling shows have taught us anything, it's that you never know what you might find behind your cabinets or under your floors.)
2. Decide Whether You'll DIY or Hire a Professional (Or Both!)
If you like to tackle house projects yourself, you might plan on doing some or all of your home improvement on your own. If you're not sure, here are some updates that many folks take on themselves:
Painting

Tiling

Floor installation

Cabinet removal and installation
Other to-dos that require more demolition or more experience – like knocking down walls, installing electrical work, HVAC, or plumbing – may be best left to the pros. 
It may also be wise to do some self-analysis and assess whether you're too busy to do the work yourself, and if hiring outside help will ensure the project gets completed.
3. Check the Help
Once you know if you're hiring a contractor and for what – do some due diligence. There are plenty of online sites that give first-hand reviews of your area's handymen, designers, and developers. Read up on at least a few, and then doublecheck:
That they have relevant experience for the work you'd like them to do.

That they are licensed and insured.

That they possess all the required permits for the work you'd like them to do.
4. Shop for Supplies
If you're DIY-ing your home improvement project, shop around for the best deal for the necessary tools and supplies. Consider your options:
What tools do you already own, and are they in good condition?

Do you really need premium hardwood in your basement, or will laminate wood planks do the job? (Bonus: they're usually easier to install with a simple snap and click!) 
It also might be wise to buy a little bit extra just in case, so if you do need more materials than expected, you don't run into a supply-and-demand issue at the store. Buying well in advance may also be smart since supply chain issues are still affecting most markets.
5. Ready? Set. Go!
Now, you've got your budget, your help, your tools, your materials – what's next? Planning each step of the home improvement project. Here's a typical step-by-step process:
Demolition

HVAC, electrical, and plumbing

Framing and drywall

Painting, wallpapering, or tiling

Cabinets and fixtures

Doors and windows

Clean the house

Install new flooring
Experts usually suggest installing your flooring last, so that it doesn't sustain any damage from the rest of your house work.
Whether you're updating your bathroom or kitchen, finishing your basement, or adding a whole new addition to your house, it's smart to have a well-thought-out home improvement project plan so that you know what you're getting into before you pick up a brush or hammer.
And when it comes to your project's budget, 1st Ed can help you realize any home remodeling dreams you've been putting off. With a simple, low-interest-rate home equity loan from 1st Ed, you can use your home's equity to make some improvements – while improving its value! (Yes, a little investment now can earn some nice returns down the road should you sell.) 
So, put your home's equity to good use and add some new sparkle and shine to your house.  Apply online or contact a 1st Ed loan specialist today: https://www.1edcu.org/loans/home-equity-loans-lines/