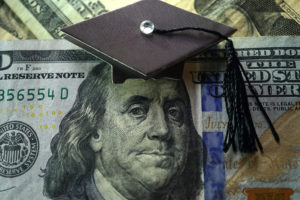 Regardless of whether your child is breezing through his or her teenage years or just entering kindergarten, the topic of college has probably come to mind. Even more importantly, how your family intends on paying for college leaves room for so many questions. 
You may have heard the term "FAFSA" thrown around quite frequently, but are federal loans the only way to pay for college? Thankfully, there are so many different options in terms of payment. Learn more about the various sources of funding out there and how to pay for college with loans.
Pay for College with a Private Student Loan
When drawing up a game plan with your child to pinpoint how your family plans on covering the cost of college, it's likely that you will plan on retrieving funds from various sources. University-granted scholarships, personal savings, and federal subsidized or unsubsidized loans can all be thrown in the mix to contribute to the total tuition amount. But after doing the math, many families find that there is still some room to "fill in the gaps". 
That's where an undergraduate private education line of credit from 1st Ed comes in. Like a credit card, a student loan line of credit can be drawn from based on how much you need, when you need it. And with low interest rates and repayment terms of 20 or 25 years, your college student will be on the right track to successfully repay what is borrowed. 
Invest in an Education Savings Account
Similarly to retirement, it's never too early to start saving for your children's undergraduate career. A Coverdell Education Savings Account allows you to make contributions over time to a source of funds that will be used to cover college education. The best part? Earnings and withdrawals are tax-free! 
Education Savings Accounts can be considered much more flexible than federal or private student loans because they can be used for a wide range of what is considered "education." Public and private K-12 schooling, room and board, and even educational supplies like a new laptop can all be funded by an ESA. 
While you may not be able to determine which schools and forms of education life may bring your child in the near future, you can already assume that there will be some sort of need for funding involved. Why not get ahead now?
Secure a Home Equity Loan or HELOC
Both home equity loans and home equity lines of credit are sometimes deemed "second mortgages" and work by borrowing against the available equity in your home. Home equity loans are given by a bank or credit union as "lump sums", where you borrow a certain amount and are provided with specific rates and terms to pay the loan back. Home equity lines of credit (HELOCs) are revolving lines of credit that you can use over a set amount of time whenever you need them. 
Either form of home equity loan is a great idea if you wish to access the "hidden cash" within a home you are already making payments on. Even better, they are secured loans, which means you will save on the money you owe in interest. 
Explore Share or Certificate Secured Loans
Aside from the cost of tuition itself, a less than average credit score or unreasonable interest rates on a student loan in general can lead to debt that feels impossible to pay off. With a Share or Certificate Secured Loan from 1st Ed, you can back up what you borrow with an account you may have been contributing to for years: your savings.
When it comes to a share or certificate loan, the amount of money that you borrow from a lender is "frozen" in your savings account until it is paid back. As another form of a secured loan, the equivalent of the amount borrowed in your savings is held as collateral. This means you can expect much lower interest rates than those of unsecured federal student loans.
To learn more about how to prepare financially for your child's future education, explore student loans from 1st Ed Credit Union today.