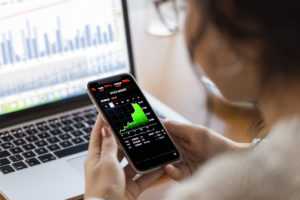 To invest, or not to invest? Chances are, you've probably already dabbled in investing at some point or another. From investment apps to work-provided 401k plans, there are so many ways to set money aside and watch it grow. But if you're hesitant about where to start, how much to contribute, or an ideal investment path that meets your current financial goals, there's no need to fear. 
Check out the following investment tips for beginners.
First Thing's First: Are You Investing for the Long or Short-Term?
The term "investing" gets thrown around pretty frequently nowadays, but there's a big difference between investing in a big-ticket item and the stock market or your 401k. 
Before researching the best stocks or mutual funds to snag while they're hot, ask yourself why you want to invest in the first place. What are your financial goals and in what time period do you hope to achieve them? 
While it's never too early to start investing in retirement, your ideal cash-out date is probably farther down the road than a goal with a less flexible deadline, such as additional schooling you hope to pay for in a few years. 
Reflect on Your Finances and Decide What You Can Invest
If a mortgage and hefty credit card bills are at the forefront of your financial brain, then you might not have much wiggle room for investing in many extras. Unless you've recently hit the lotto (wouldn't that be nice), it's highly unlikely that you've got a huge chunk of change lying around to invest. 
Pro tip? Take into consideration all of those small purchases that you make weekly that you could cut back on. The biggest mistake made by new investors is thinking that they have to bring a large sum of money to the table before they can get started. 
If you want to invest a little bit along the way, look into an investment app to help you manage your money and even invest for you. Fan favorites like Acorns allow users to link their credit or debit cards and then round up everyday purchases. The app then dedicates the change to your very own investment portfolio.
Step Up Your 401k Game
One of the biggest benefits of a 401k account from a job is that most employers will match contributions. In other words … free money! While a small dent in your monthly pay may feel like a drag in the short term, it's so important to invest as much as you can so that your retirement plan can grow over time. 
If your workplace doesn't offer 401k benefits, or you just want to invest in your own portfolio on the side, consider looking into a Traditional or Roth IRA fund with 1st Ed. You can withdraw from a Traditional IRA at the age of 59.5 and from a Roth IRA whenever, but can start investing in both for any reason, not just retirement! 
We even offer an easy-to-use IRA Service Center at 1st Ed so that our members can open, manage, and monitor their accounts with the click of a button.
Choose the Right Path for Investing in the Stock Market
If opening and managing your own stock portfolio sounds daunting, you're definitely not alone. While this do-it-yourself process may feel less expensive than the cost of a financial advisor, it requires that you pay special attention to the stock market regularly. 
Robo advisors are a great option if you're looking for a brokerage company to invest in stocks for you based on your financial needs and goals. 1st Ed also offers investment services where you can sit down with an advisor who can take the time to learn about your financial health and map out an investment game plan with you.  
To learn more about breaking into the world of investment today, check out 1st Ed's investment services options.