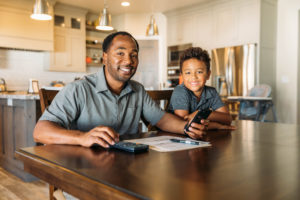 If an easily accessible piggy bank is your child's current method of storing loose cash and coins, it might be tough to encourage smart saving habits. While the topic of money has always been a bit of a taboo subject in The United States, chatting with your kids privately about saving and spending early on is the key to instilling confidence when it comes to their own financial independence. After all, you're on your own journey to solidifying the budgeting skills you've picked up over the years, and most likely have plenty of strategies to share! 
Here are a few tips for promoting thoughtful money management for kids. 
Teach Your Children the Value of a Dollar
When mapping out a game plan to talk to your kids about money, it's easy to get caught up in the idea that the conversation should involve facts and figures. While it's never bad to teach your children that money doesn't grow on trees, and that the material items in their lives aren't free, try to focus more on the value of a dollar. 
Spending, saving, earning, and donating are all examples of financial practices to share with your children, and are much more important to learn about than the price tags on their favorite toys. 
Open Up a Youth Savings Account
As a manager of your own various checking and savings accounts at 1st Ed Credit Union, you've already got the tools to educate your child on strong budgeting and saving habits with a Youth Savings Account. 
We've all hit financial bumps in the road at least once in our lives — but the earlier you enlighten your children on just how rewarding wise money management can be, the better. Plus, at 1st Ed Credit Union, we're thrilled to assist you in empowering your children on their journey to financial wellness by offering a $5 deposit to all new youth members this month! 
Start a Conversation Around Saving and Spending
Now that your child or children have Youth Accounts of their own, create an open dialogue around the importance of watching their funds grow. While you will be the primary holder of this account if your child is under the age of seventeen, be sure to make any deposits and withdrawals a topic of conversation. A birthday check from grandma might not feel like a treat if it's deposited into your child's savings account immediately, but it's an opportunity to promote excitement around watching funds grow!
At 1st Ed Credit Union, it's our mission to extend financial services that will promote money management skills to our members and their families. Learn more about our Youth Savings Accounts today!